Welcome to the 2024
NYC  St. Patrick's Day Parade
Welcome to the 2023
NYC  St. Patrick's Day Parade
Grand Marshall Kevin J. Conway
The NYC Parade will be held on
Saturday March 16th
and begins precisely at 11:00 AM.
The Parade marches up Fifth Avenue, beginning at East 44th Street and ending at East 82nd Street.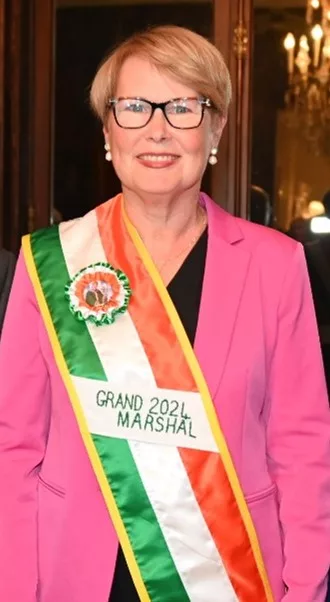 Maggie Timoney is the President & CEO of HEINEKEN USA based in White
Plains, New York. During her 20+ year tenure with the HEINEKEN Group in the
US, Netherlands, Canada and Ireland, Maggie has been recognized for being a
transformational leader as demonstrated through her results at a P&L level
combined with a high impact in both cultural and social change. Prior to joining HEINEKEN, she worked for Gallo and Anheuser-Busch.
Throughout her career, Maggie continues to blaze the trail as a senior female
executive in a traditionally male-dominated industry. Today, she is the first woman to serve as chief executive of a major beer company in the US.
Maggie received both her B.A. and M.B.A at Iona University. During her time there, she was a standout player on the women's basketball team. She often credits her time spent on the court for helping shape her leadership skills. A native of Ballina, County Mayo, Ireland, Maggie currently resides in Connecticut with her husband and two
children.
2024
Important Dates/Events
NOVEMBER 20, 2023
SUBMISSION OF 2024 AIDES BIO/ INFO
DECEMBER 15, 2023
DECEMBER 2023
Introduction of Aides to GM
Date: TBD – Next Meeting
Location: TBD. Zoom Meeting.
FEBRUARY
In-Person Format Meeting
Date: First Week of February, TBD
Location: TBD
MARCH 15, 2024
IRISH FLAG RAISING
Time:12 Noon
Location: Bowling Green
NYC St. Patrick's Day Parade
Our Sponsors
Because of their generosity each year the celebration goes on!